Hey, let's create an engaging and motivational experience at your Snap Fitness gym together. We have created a music station and Snap Fitness motivational quotes for all Snap gyms.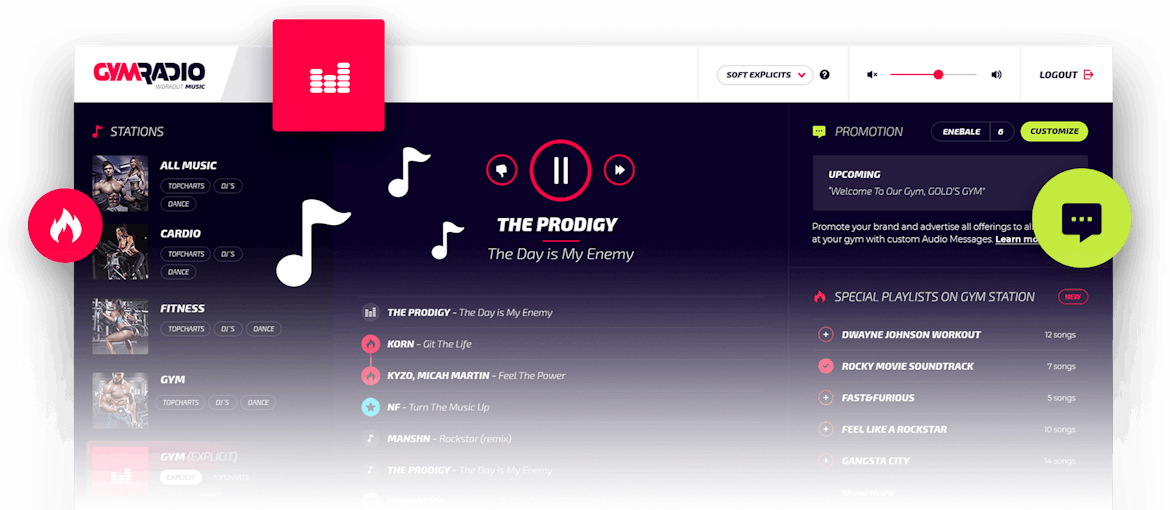 Engage members with the right

 music

GYM Radio is a music service, like Spotify, but licensed for gyms. We have built a GYM Radio because we believe that music is 30% of the workout experience.

We are updating all workout music stations every day to keep people engaged. Engagement during the workout sessions is the best way to increase retention and lower churn rate. People who are engaged are less likely to leave your gym because they will enjoy the workout way more.

Encourage and make a positive impact

 with promotions

Speak to all your members through engaging audio promotions and encourage them to take classes and personal training sessions or improve your brand awareness.

Improve your brand awareness
"Get fitter faster with Snap Fitness"
Motivate members with motivational quotes
"Eat Your Goals for Breakfast. Snap Fitness"
Promote your personal training services and classes
"Our friendly professional team is here to help and support you. Just ask - we have the answers. Snap Fitness team"
Motivate members with quotes
"Transform your life at Snap Fitness"

"Hustle for the muscle. Snap Fitness"

"Lift with your heart. Snap Fitness"



Why GYM Radio
Workout music stations with daily updated music
Hand-picked best workout songs
Explicit filters that really work
Branded audio promotions
Branded motivational messages
No device needed
Licensed music provider for gyms
Try it 30 days for free 
Don't worry, you can try it 30 days completely for free.
*Use your @snapfitness.com email for signup or ask for a Demo account on our chat.